The Adventures of MeraLee
Mom's Travel Log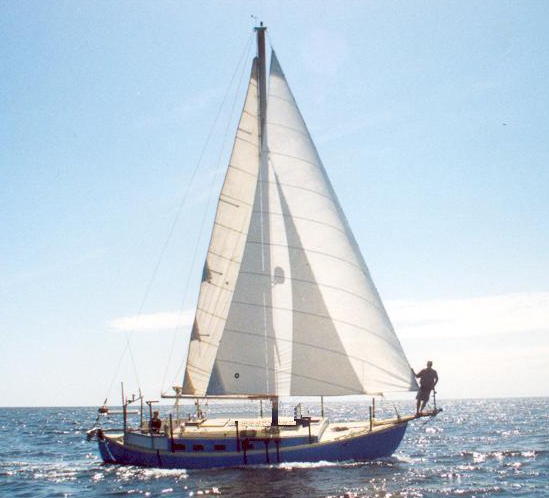 December 13, 2005
We have email service at long last! The winds have largely been in our favor, though at time progress is slow, but so what. We just enjoy each beautiful place we visit until the winds change again.
We stayed a week in Marina Palmira in La Paz. With the 50% Ha-Ha discount it was just $59 for a week. There was free WiFi, though it didn't work well, and they offered free shuttles to towm several times a day. Later we won a free week at another marina!, so we're getting spoiled.
We were one of the smallest and slowest boats to reach the three different anchorages on the Ha-Ha, so we were pretty exhausted at the parties, and late getting started on the departures. We have suffered several setbacks, such as the night the bridle we were using to tow the Hobie Cat broke, and in his effort to reconnect the tow line correctly the Hobie slammed into our wind steering vane and broke it. The auto tiller then quit and we had to hand steer in heavy seas. Then the motor started cutting out on us and the radar quit. We started calling it the Baja Boo-Hoo instead of the Baja Ha-Ha!!! But eventually Eric got everyghing repaired and operational again.
Ryan is learning to navigate, plot positions, tie many more knots, and Spanish. He has been keeping a journal and we will try to get it posted to our website. He has made several friends among the cruisers, and seems to be adapting well and even enjoying himself.
Athena is, naturally, curled up behind me being her usual sweet self. Other than ripping the seal and screen out of our opening port when we left her aboard and went to see the Legend of Zorro in the mall (English with Spanish subtitles) she takes everything we have thrown at her in stride. She is really evolving into a tough little pooch. She jumps from the boat onto the Hobie cat, and twice she jumped from the Hobie and swam to shore to be with Ryan!
We went to Squid Roe in Cabo San Lucas the night of November 16th for my birthday, because we would be sailing all of the next day. Squid Roe had a coupon for a free Jose Quervo Marguerita with each meal. The food was excellent. Much better than we could have hoped for. Some meal items are prepared at tableside, such as quacamole and banana flambe. I was sipping my drink, but Eric had barely touched his, so I swapped drinks with him. We continued swapping drinks until I had polished them off. You know that, as a general rule, I do not drink, but who can go to Mexico and not have at least one Marguerita? I think I need two pina coladas at some point, too. Anyway, it is a long walk from Squid Roe back to the beach. I thought I was walking fairly well until one guy said "Too many cervesas?"
We made it back to the boat, dismantled the Hobie, and stowed it on the deck. No easy feat since some large swells were starting to roll in. We sailed out of the bay and then bobbed around all night. The strong current actually set us back beyond Cabo. In the morning some wind picked up and we made a tack out and back, then they died down again, and the current set us back once more. We had not purchased more diesel because we had planned to use the wind as our primary propulsion., but the current had us beat, so we turned tail back to Cabo, filled our diesel tank and both jugs, refilled our water jugs, and headed back out again. There was a strong Northerly, so we tacked way out and then back in, only making about 32 miles to the good. There were huge waves, a strong head wind, and strong current all working against us. Eventually we had to crank up the motor full throttle and made it to Bahia Los Frailes. Los Frailes has a tiny fishing camp, two RV camps of gringos, and a motel mainly for guest doing dive excursions. Around the point is what the guide books tours as the only coral reef on the Pacific mainland coast. We stayed in Los Frailes (named after a rock formation that namer thought looked like three friars ascending the cliff) for several days awaiting favorable winds. The water there is crystal clear, and the fish varied and colorful. Ryan really enjoyed snorkeling with his friends.
We headed out again and made it to Bahia De Los Muertos, supposedly named after the deadmen cemented in the sand to anchor the mining barges. What a surprise to find a Giggling Marlin beach club there! And some pretty ritzy homes on the other side of the bay. No other developments around. We and five other Ha-Ha boats, plus another three sailboats and two power boats anchored there over Thanksgiving. We tried calling home several times, but only got through to my daughter's message machine that beeped and cut me off after about 30 seconds. The fee for using the phone at the Giggling Marlin was $2 per call and an additional $2 per minute. Oh well, they did have free showers in the restrooms. Fortunately, the man at the bar was gracious and did not charge me for the call. The next day one of the Ha-Ha cruisers on a 30' sailboat named Sea Ya let us use his $1000 Iridium cell phone with prepaid $1.40 per minute rate, to make a call to Eric's parents. Axel, the cruiser on Sea Ya got strung upside down at the Giggling Marlin. Eat your heart out, Patrick! Axel's crew took the photo op, as did we.
We put the Hobie together, and Ryan took his friends out sailing. That Wednesday the produce truck came to the gringo encampment. We went over and bought some carrots, onions, potatoes, bell pepper, and one of the gringos gave us two heads of elephant garlic. We walked past the fishing villiage and bought a large red snapper we had the fisherman filet for us. I battered the fish in some Bisquick I seasoned up, and served it with the sauteed veggies. Yummy! We like to kid around sometimes about our supposed Thanksgiving "feasts." One year we were looking forward to turkey TV dinners. This year we celebrated with fried Spam, fried potatoes, and steamed carrots. For dessert we ate our chocolate chip cookie dough mix. Ah, the simple pleasures of cruising! One night there was a viscous looking chubasco in the distance. The winds were howling around us at 35 knots, but chubascos are localized storms that have several lightnening strikes per second and near hurricane force winds. Eric let our some more chain rode for the anchor and we took turns on watch until 0200 when it was certain that the chubasco would not hit our anchorage. One boat ended up being dismasted outside of Frailes, and another Ha-Ha boater cracked a wooden mast in almost the same spot just a day apart.
There was a forecast of the return of strong northerlies again. That was not good news, since we planned to head north to La Paz, so we high tailed it out of Muertos before they were expected to arrive. Sea Ya stayed in the anchorage and we though they were going to wait until the northerlies had passed. We had a very pleasant sail along Isla Cerralvo, but near dark the seas started to rise and the wind increased dramatically. There was a narrow passage between the Baja and the rocks and reef outside of Isla Espiritu Santo, and neither of the navigational lights were lit. Of course, it was pitch black out because the quarter moon was not yet in the sky. Fortunately we had the GPS coordinates for the passage and followed it closely, Eric turned on the motor and I continuously monitored the depth meter. Sometime after we successfully navigatedI through the hazzads I told Eric I heard a strange noise, and asked what could be making that ripping sound. "Probably something ripping," he answered.
It was too dangerous to enter the narrow bay of La Paz in the dark, so we anchored overnight in Bahia Bandra and pitched fitrully in 4' swells. In the morning we looked around the bay. It was convoluted with several small coves and a reef. Looked like a great place to snorkel, but we did not have time to do any exploring. We wanted to make La Paz before the northerrlies picked up again, so we fired up the motor and reefed the main above the 5' tear in the sail and motor-sailed the 9 remaining miles. We cruised nearly to the end of the bay and selected an anchorage near Marina De La Paz, where we hoped to get showers and the use of their dinghy dock. After anchoring Eric did not like our position, the developing swell, or the look of the boat nearest to us. It was only on a rope rode and looked like it had not been moved for many months, judging by the growth on it's bottom. A cruiser came by on a dinghy and told us that he was anchored on the other side of the bay, and if we wanted to cross the sandbar inbetween then we should cross by the pier. We followed his suggestion and spent the next two days unable to leave the boat because of winds in the 40 plus knot range, but we were comfortably anchored in slight swell.
That afternoon we were hailed on the radio several times by Sea Ya but his signal was weak and our answering transmission was not heard by him. We tried hailing him once more before we turned our radio off for the night to conserve power when the solar panels are not able to produce energy, but we still could not be heard by him. The next morning, on the 0730 SSB net we heard that he had tried entering La Paz in the middle of the night and ran aground on the sandbar. His fin keel was repeatedly slammed into the sand until the rudder and keel snapped. This was confirmed by the 0900 local VHF net. Sea Ya was now aground near shore. Fierce winds and waves kept us from leaving our boat, but local yachties rallied together at low tide and helped carry all of his belongings to shore. The next day a crane came and removed Sea Ya to the boneyard, the hull a total loss. While we were anchored out, Eric wired our Air-X wind generator and the wind power topped off our batteries and produced a surplus of power!
We have spent the last three days helping Axel clean and sort what was salvaged from Sea Ya. Tomorrow he is having a swap meet to "trade for coconuts' what he will not be taking back home with him. He will be taking "hamburgers (US dollars) and tacos (pesos at 10.5 to the dollar). We decided to come into the marina so we will be here early in the morning to tape prices on some of the remaining items before the sale begins at 1000, and were surprised the price was so low.
There is another big blow predicted for Sunday and Monday. Then we will enjoy the lull inbetween here in the marina and try to head out across the Sea of Cortez to Mazatlan then down to Puerta Vallarta. We hope Ryan will be able to take the HAM radio operators test in Puerta Vallarta before we move on from that area. The "plan" is to possibly be in Zihuatanea (called Z-town, or Zihua for short) for Christmas.

Fine poetry and art go together. Support this site: Visit our Zazzle store featuring ultra hi-res images of artworks, Hubble/ESA/NASA space images, Mandelbrot fractals, maps and more. Images up to 525 megapixels allow for fine printing at the largest sizes. Give a fine print as a gift that could hang around for a hundred years or more.