The Purple Cow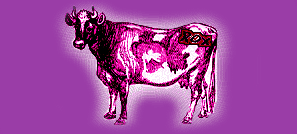 Gelett Burgess (1866-1951)
I NEVER saw a Purple Cow,
I never hope to see one;
But I can tell you, anyhow,
I'd rather see than be one.




Some time later….

Ah, yes, I wrote the "Purple Cow"—
I'm Sorry, now, I wrote it;
But I can tell you Anyhow
I'll Kill you if you Quote it!

Fine poetry and art go together. Support this site: Visit our Zazzle store featuring ultra hi-res images of artworks, Hubble/ESA/NASA space images, Mandelbrot fractals, maps and more. Images up to 525 megapixels allow for fine printing at the largest sizes. Give a fine print as a gift that could hang around for a hundred years or more.