The Rainy Day



by Henry Wadsworth Longfellow
(Portland, Maine 1842)

The day is cold, and dark, and dreary;
It rains, and the wind is never weary;
The vine still clings to the mouldering wall,
But at every gust more dead leaves fall,
And the day is dark and dreary.

My life is cold and dark and dreary;
It rains and the wind is never weary;
My thoughts still cling to the mouldering Past,
And youth's fond hopes fall thick in the blast,
And my life is dark and dreary.

Be still, sad heart! and cease repining;
Behind the clouds is the sun still shining;
Thy fate is the common fate of all,
Into each life some rain must fall,
Some days must be dark and dreary.



Free 8" x 10" print of this poem:
Download a mini-poster version of this poem and print it 8" x 10" (at 100 PPI or pixels per inch) on your color printer. The dark and dreary background is viewed as if through a pane of rain covered glass. Click on the thumbnail below to preview. Right click and 'Save Image As' to download it.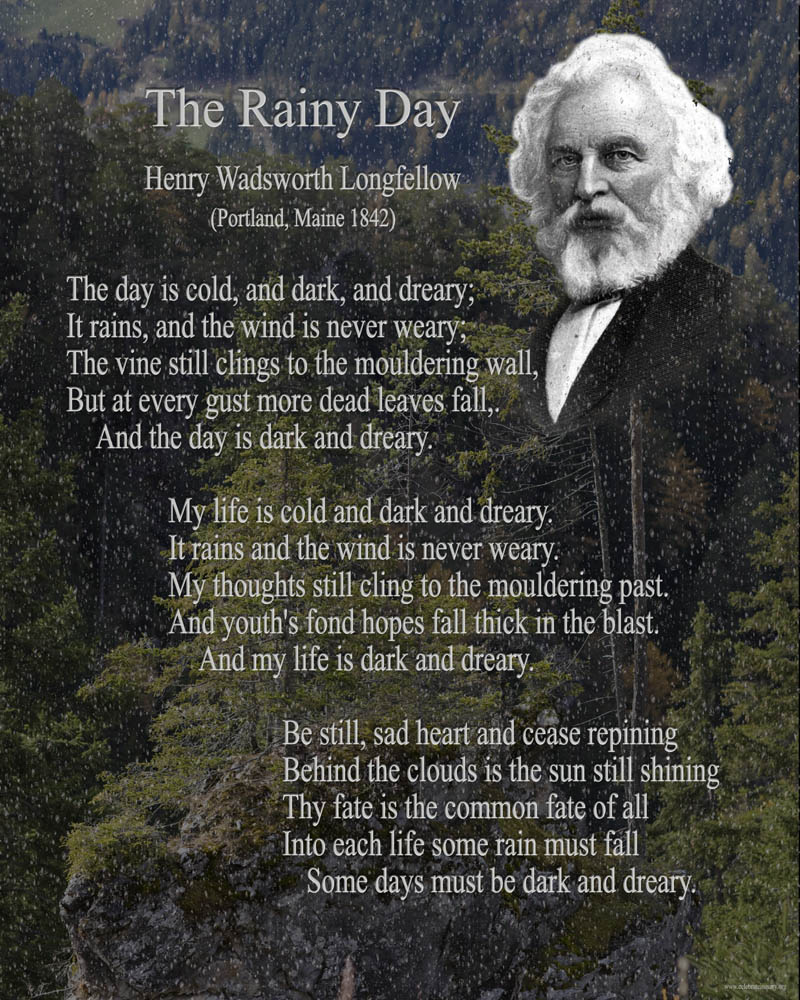 This version is a low-res 0.8 MP (megapixel) image. Most posters are 100-150 PPI and look okay if not examined too closely. If this level of print quality is good enough, then great, we're happy to give you a copy free for the printing.

If you appreciate quality or wish to give a copy of this poem as a gift, we offer a much higher resolution 28.8 MP version on our Zazzle store (that's 36 times the resolution!) that will print a 16" x 20" poster at 300 PPI, or an 11.2" x 14" poster at 428 PPI, or an 8" x 10" print at 600 PPI (these are common frame sizes). You can see the difference in quality below:

To buy the hi-res version of this poem, click here, or click below to browse the store.

Fine poetry and art go together. Support this site: Visit our Zazzle store featuring ultra hi-res images of artworks, Hubble/ESA/NASA space images, Mandelbrot fractals, maps and more. Images up to 525 megapixels allow for fine printing at the largest sizes. Give a fine print as a gift that could hang around for a hundred years or more.